[ad_1]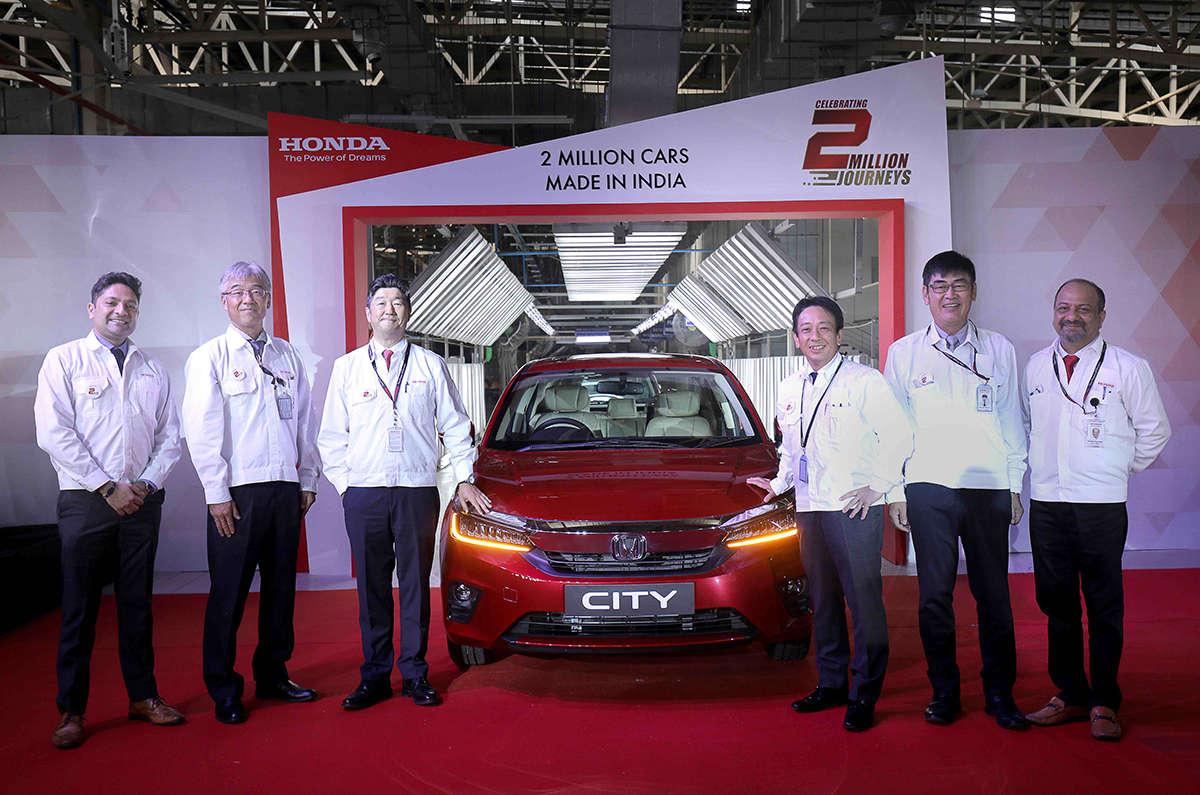 The Japanese brand began production of the City in 1997, with sales commencing from 1998.
Just last month, Honda celebrated 25 years of the City midsize sedan in India, and now it's crossed another milestone – its two millionth car produced in our market. The Japanese brand began production in late 1997, starting with its debut product, the City, sales of which commenced the following year.
Two millionth car produced was a Honda City sedan
Honda has invested Rs 10,000 crore over 25 years
New Honda SUV launch in 2023 to rival Creta
2 million India-produced Honda cars
The milestone vehicle was, fittingly, a new Honda City sedan, which rolled off the production line at the brand's plant in Tapukara, Rajasthan. This is currently the brand's only facility, following the closure of its original Greater Noida facility in 2020, an impact of the COVID-19 pandemic.  
The Honda India and Asia regional senior management were present at the production line as the milestone was crossed. "The historic milestone of 2 million production roll out in India is a testimony to Honda's commitment to the 'Make in India' initiative for the last 25 years," said Takuya Tsumura, president and CEO, Honda Cars India, commenting on the occasion. "We remain committed to providing all our customers with the most advanced, cutting-edge technology products for a premium and worry-free ownership experience."
Honda says it has invested over Rs 10,000 crore in India over the last quarter century and its production capacity of 180,000 units per year is not just for local sale, but exports too. Apart from being retailed through 330 outlets across India, the City and Amaze sedans are currently exported from India to 16 other markets.
10 Honda models have been produced in India
Honda will have just two models in production in India, the City Gen 5 and Amaze sedans, with the Jazz, WR-V and City Gen 4 going out of production this year. However, every Honda model sold in India has been produced here, at least in one of its generations, which makes for a total of 10 model lines over the years.
1. Honda City (1997-present) – The first and longest-running Honda in India, the City is the brand's de-facto flagship in India. It has been produced in all five of its generations, with the fourth and fifth generations recently being produced alongside one another. Even the e:HEV strong hybrid version is assembled here.
2. Honda Accord (2000-2020) – Following the City, the flagship Accord sedan was Honda's next model in India, showing the best of what the brand could offer. While the first three generations introduced were assembled in India, the fourth version – brought in only as a hybrid – was a short-lived CBU import.
3. Honda CR-V (2003-2020) – Alongside the second Honda Accord for India in 2003 came the CR-V, which was positioned as a co-flagship model. In its last generation, a 1.6-litre diesel engine was introduced, but that was subsequently axed just before the end of the SUV's life cycle, as it was discontinued in 2020 with the closure of the Greater Noida plant.
4. Honda Civic (2006-2020) – Built and sold in two generations in India, with one skipped generation between them, the sleek and stylish executive sedan was a cult classic. There was even a strong hybrid version brought in as a CBU import in limited numbers in 2008, which was far ahead of its time.
5. Honda Jazz (2009-2022) – Hugely popular globally, the Jazz premium hatchback was built and sold in its second and third-generation guises in India. Clever packaging and flexible seating meant it consistently offered best-in-class space and practicality. Towards the end of its life, the diesel engine was dropped, and it was sold only as a petrol.
6. Honda Brio (2011-2019) – Honda's smaller hatchback that sat below the Jazz was built and sold in India for just its first generation but found quite a bit of popularity in its time. Despite its diminutive size, it offered a lot of passenger room, but it was ultimately eclipsed by its compact sedan derivative, the Amaze.
7. Honda Amaze (2013-present) – The brand's Brio-based sub-four-metre compact sedan was introduced in 2013 and is now in its second generation. Available in both petrol and diesel guises, it also uniquely offers CVT automatics on both engines. It's sold in several international markets too but has had big success in India.
8. Honda Mobilio (2014-2018) – An MPV spun off the Honda Brio platform, the 7-seater was well packaged and an interesting entry to the then-mushrooming segment. It was offered with the 1.5 diesel as well as the City's 1.5 petrol engine. It was soon, however, overshadowed by its SUV derivative, the BR-V.
9. Honda BR-V (2016-2020) – Essentially the Mobilio with a more rugged and therefore more appealing design, this 7-seat SUV went up against popular midsize SUVs like the Creta, with the added advantage of a third row. However, flagging popularity and the impending BS6 emissions norms meant the BR-V met its end in 2020.
10. Honda WR-V (2017-2022) – A crossover derivative of the Jazz hatchback, the WR-V was Honda's answer to the wave of sub-four-metre SUVs that emerged around the time of its launch. It's one of the few Honda models where there was more demand for the diesel engine than the petrol in recent years and has been produced in India and Brazil in its first generation.
New Honda SUV launch in 2023, but no more diesel
If the trimmed-down model range seems to spell doom and gloom for Honda Cars in India, that couldn't be further from the truth. The brand will be bringing in an all-new SUV in 2023 that will enter none other than the extremely popular midsize SUV segment, taking on none other than the likes of the Creta, Seltos, Taigun, Kushaq and Astor. Not much is known about it at this point, other than that it will be built on the Honda City platform, but given its expected launch date of Diwali 2023, expect details to unfold at a rapid pace. The recently revealed new-gen Honda WR-V is also said to be under evaluation for India. Even with just the single plant, the annual production capacity of 1,80,000 units can easily be shared by three or more models.
Given Honda's newfound focus on SUVs, what might come as a bit of a surprise, then, is that the brand will also be abandoning diesel next year. With the advent of stricter RDE emissions norms, the brand's sole 1.5-litre diesel engine will not be upgraded and instead dropped entirely. Introduced with the launch of the Amaze in 2013, the 100hp i-DTEC unit has served under the bonnets of the City, Amaze, WR-V, Jazz, Mobilio and BR-V. Going forward, the brand's models will only be powered by petrol and petrol hybrid powertrains.
What should be Honda's next big product in India? Let us know in the comments section.
Also see:
Honda City facelift in the works; could launch by 2024
All-new Honda WR-V SUV revealed
Discounts of up to Rs 63,000 on Honda WR-V, City, Jazz, Amaze in November


[ad_2]

Source link