Toyota's second-generation fuel cell car is both a technological marvel and a more practical and useable vehicle. We drive it to find out the details.
In the Budget 2023, the Union Government announced some relief for EVs along with its focus to boost ethanol production in the country. However, the bigger announcement was the outlays of the National Green Hydrogen Mission, which will make India one of the global leaders in hydrogen production. 
The Indian government has already kickstarted its tests on fuel cell electric vehicles with the Toyota Mirai, which is powered by hydrogen fuel cells that generate electricity. The Mirai FCEV can offer a range of up to 650 kilometres.  
Mirai generates power by combining hydrogen with oxygen from the outside air.
As an electric car that runs off hydrogen, the 2023 Toyota Mirai is a niche car within a niche segment. Its handsome design and luxurious cabin are as unexpected as its fuel-cell powertrain, which produces 182 horsepower and can motor on for more than 400 miles before needing a refill of hydrogen.
It's not as quick as EV rivals that use charging stations to fill their batteries, but the Mirai at least offers a refined ride and lively handling. Why aren't more of these finding homes among the motoring public? Well, right now only the state of California has a reasonable infrastructure of hydrogen fueling stations, a fact that severely limits the Mirai's—and its chief rival, the Hyundai Nexo's—appeal.
How Does It Create Electricity?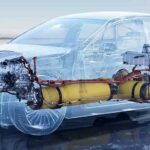 At the core of Mirai, hydrogen from the fuel tank and air entering from the intake grille meet in the Fuel Cell Stack. There, a chemical reaction involving the oxygen in the air and hydrogen creates electricity—powering Mirai. In the end, the only by-product is water.
How To Fill Up Mirai?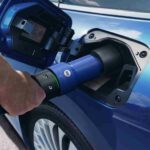 Refueling Mirai is simple. There's a pump and a nozzle, just like at a gasoline station. As you pump in the hydrogen, it travels to carbon-fiber-reinforced fuel tanks where it's stored. After around five minutes, * you'll be ready to hit the road.
How Safe Is Hydrogen?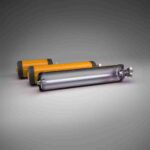 Mirai's hydrogen fuel tanks have been rigorously tested and proven to meet Global Technical Regulation No. 13. * Its multi-patented, carbon-fiber-wrapped, polymer-lined fuel tanks absorb five times the crash energy of steel. If the hydrogen detectors detect a leak or equipped vehicles with a collision sensor detect a collision, the hydrogen tank valves will automatically close to prevent more hydrogen from escaping while any hydrogen that is leaked will safely return to the atmosphere.
The purest expression of elegance.
Toyota Mirai's craftsmanship is on display with every detail. Its low, wide and long stance gives Mirai a look that's as cutting-edge as its engineering. And premium aluminum alloy wheels elegantly accent Mirai's sleek and modern shape.
Incredibly interactive.
Mirai's advanced tech helps you feel more connected and in control on every drive. Mirai features Toyota's innovative Human Machine Interface (HMI). This advanced system uses Mirai's 12.3-in. Toyota Audio Multimedia touchscreen to heighten your interaction through sight, touch and voice activation.
Travel many miles on one fill-up.
When fully fueled with hydrogen, the 2023 Mirai XLE has an impressive manufacturer-estimated 402-mile driving range rating * and the 2023 Mirai Limited has a 357-mile driving range rating. * Driving in the city or cruising down the curvy roads, Mirai's dynamic rear-wheel-drive platform consistently delivers an exciting, zero-emissions ride.
Discover Your Mirai
2 unique grades to choose from
Smart Key System with remote keyless entry
Toyota Safety Sense™ 2.5+ (TSS 2.5+) *
Bi-beam auto-leveling LED headlights
Panoramic View Monitor with 360-degree Overhead View in low-speed drive and reverse, and Curb View *
Color Head-Up Display (HUD)


source : https://www.toyota.com/mirai/
People also ask